Perhaps, like other crypto investors, you are unsure about which is the best cryptocurrency exchange to buy your crypto on safely. You've probably heard of exit scams or exchanges getting hacked but in this post we'll explain how and where you should go to buy your crypto safely (before tracking it safely), read on!
In one way or another, a cryptocurrency investor has to get involved with a cryptocurrency exchange. Unfortunately, with many platforms orchestrating exit scams or being hacked, virtual currency traders and investors have to decide where to buy and sell their coins.
Luckily, this often difficult task has been simplified. In this post, we look at key features of a reputable exchange, and three tried and tested platforms we recommend for trading your digital wealth. But, first things first..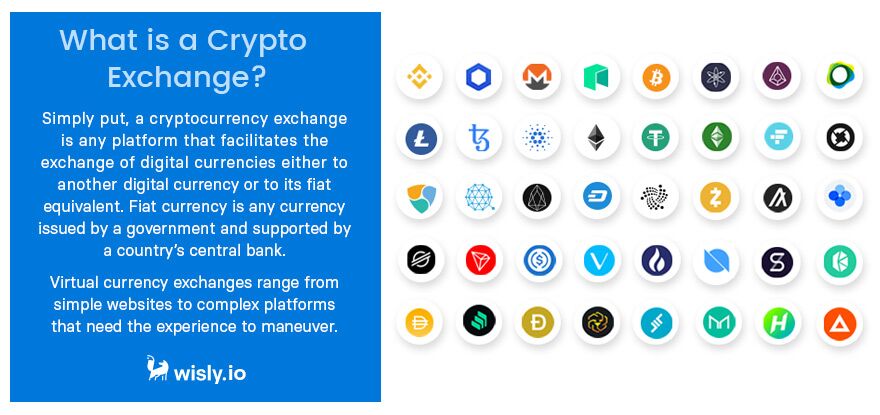 What is a Crypto Exchange?
Simply put, a cryptocurrency exchange is any platform that facilitates the exchange of digital currencies either to another digital currency or to its fiat equivalent. Fiat currency is any currency issued by a government and supported by a country's central bank. Virtual currency exchanges range from simple websites to complex platforms that need the experience to maneuver.
Types of Cryptocurrency Exchanges
Crypto exchanges can act either as centralized or decentralized. There is also an over-the-counter option, although this can be a section of a centralized exchange rather than a standalone exchange.
Centralized Exchanges – Think of a centralized exchange as a company that offers services for a fee. These platforms collect buy and sell orders, put them in an order book, and earn revenue per transaction.
Decentralized Exchanges – Also known as peer-to-peer exchanges, link sellers directly with buyers. Here, the activities on the platform are managed by distributed nodes.
OTC – Over the counter trading desks deal with large orders. Since these orders are likely to cause significant price movements, they are not recorded on an exchange's order book. An OTC can operate as a standalone exchange or as a section of a centralized exchange.
In most platforms, the fee follows a maker-taker model where makers are charged less for providing liquidity, and takers are charged more for removing the order book's liquidity.
Usually, market makers are those traders that place limit orders, thus adding liquidity in the order book, while market takers are traders who place market orders.
Importance of Choosing A Trustworthy, Reputable Crypto Exchange
In 2018, more than 1.1 billion US dollars were stolen from exchanges by hackers. Although this number significantly reduced in 2019, it stresses the importance of choosing a trustworthy and reputable cryptocurrency exchange. A crucial thing to understand is that there's no one exchange that meets all of the traders' trading needs.
Therefore, a virtual currency trader must carefully examine their needs and what the exchange offers before depositing their fund. Are they for spot trading, margin trading, or both?
Spot trading is the exchange of one asset for another at the current price. Margin trading, involves borrowing funds to increase your profit margin when. However, the higher the profits, the higher the risks. For example, one exchange may have everything for spot trading but has underdeveloped margin trading features and vice versa. However, there are primary pointers towards a reputable digital currency exchange.
Factors to Consider When Choosing a Reputable Cryptocurrency Exchange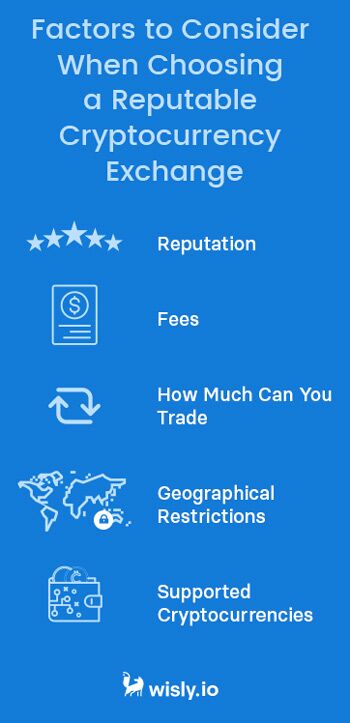 Reputation – With growing virtual currency adoption, many cryptocurrency exchanges have been launched. Unfortunately, some are in it for the hype and may even fake their trading volumes to attract users. These have diluted the reputation of digital currency exchanges and reduced their longevity.
Fees – If you decide to actively trade cryptocurrencies, you may want to choose an exchange with low trading fees to maximize your profits. Things to consider include whether the platform has a clear fee schedule, whether there are incentives for trading large quantities in a certain period, etc.
How Much Can You Trade – Cryptocurrency exchanges like Kraken limit the amount tradable depending on the verification levels. Before committing to a crypto trading platform, it's best to understand the trading limit. This includes limits on deposits, withdrawals, and fiat purchases.
Geographical Restrictions – Due to an uneven regulatory landscape, cryptocurrency exchanges like Binance have started to geofence users to avoid restricted countries' access. Before settling on an exchange, therefore, ensure that your country is fully supported.
Supported Cryptocurrencies – What crypto coins are available for trading? Virtual currency platforms have varying numbers of listed and or actively traded coins. A reputable platform should have the major cryptos on its menu.

Top 3 exchanges that Wisly Uses & Recommends
1. Binance
Binance is the leading cryptocurrency exchange for spot trading. Although it has added support for margin and futures trading, its spot trading section has more than 500 trading pairs.
Binance's key pillars include:
Trading fees are as low as 0.1 percent.
A wide range of listed coins and trading pairs.
Suitable for experienced traders.
It's secure compared to other exchanges.
Unfortunately, the platform is not accessible in some states in the US and some other jurisdictions globally. Also, it's not suitable for complete beginners.
2. Coinbase Pro
Coinbase Pro caters to professional cryptocurrency traders. Features include high-end trading options and information-packed charts. With a FinCEN license and an FDIC insurance in place, the exchange is ideal for those looking for a regulated cryptocurrency exchange platform.
Coinbase Pro advantages
Low fees
The exchange charges fees on deposits, withdrawals, and trading. However, trading fees can reach lows of 0.1 percent, although this depends on a 30-day trading volume. Interestingly, market makers are exempted from paying fees.
Supports different payment options
Users can deposit fiat using Wire, SEPA, ACH transfer, among other methods making it easy to board the cryptocurrency train. Also, users can deposit USD or EUR.
Made for professionals
Coinbase Pro is designed with professionals in mind. As such professional traders will find it easy to use.
It's safe
Coinbase Pro's FDIC insurance covers up to $250,000 of user funds. However, this is per user.
3. HitBTC
The HitBTC exchange has been operational since 2013. It focuses mainly on spot trading. HitBTC has a high liquidity, a top of the range matching algorithm, and a high-speed matching engine.
HitBTC's main advantages include:
Low transaction fees.
Major cryptocurrencies are listed.
Strong security.
A strong application programming interface (API).
Has an OTC trading desk.
Has an affiliate program.
Has a friendly interface.
Supports major payment methods.
Best Cryptocurrency Exchanges – Conclusion
When choosing the best cryptocurrency exchange, there's no one size fits it all. An exchange may be good for spot trading and bad for margin trading. Also, an exchange may be accessible from the United States and not from the United Kingdom. However, for a near-perfect fit, consider an exchange's reputation, security, fees, supported cryptocurrencies, payment methods, trading limits, among others. Remember that security starts with you; use strong passwords and make them private.