The Most Advanced Tracking Metrics & Data Available In The Market.
Wisly is the first cryptocurrency tracker that has been built from the ground up to empower teams as well as individual investors.
Create multiple portfolios, and choose which ones are yours alone, and which are team / pool investment vehicles.

Your Portfolios, Your Logic
At Wisly, we recognize that some investments are different than others. Whether you have a long term portfolio, a trading-only account, a mining business, or invest in a pool of investors or as a company, Wisly can provide you with the relevant analytics:
Consolidated view: We offer a consolidated view of your performance and assets, whether you have a single portfolio or multiple.
Portfolio only-views: We allow you to look at portfolios in isolation and calculate your performance, cost-basis and metrics only on the transactions included in that specific portfolio
Smart imports: When automating your transaction entry, through API connections, we allow you to manually or automatically route transactions to given portfolios. This means you can invest on the same exchange but track performance of actions separately.
Unified reporting: Sometimes, you need to calculate profits, cost-basis and other information on all your transactions, regardless of portfolios; this is especially the case with tax reporting. We have developed unified reporting, to allow you to have these reports when needed, but still be able to track your investments as individual portfolios.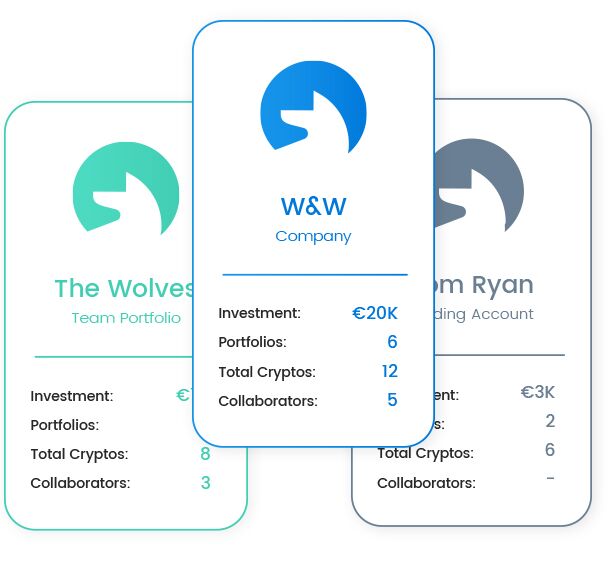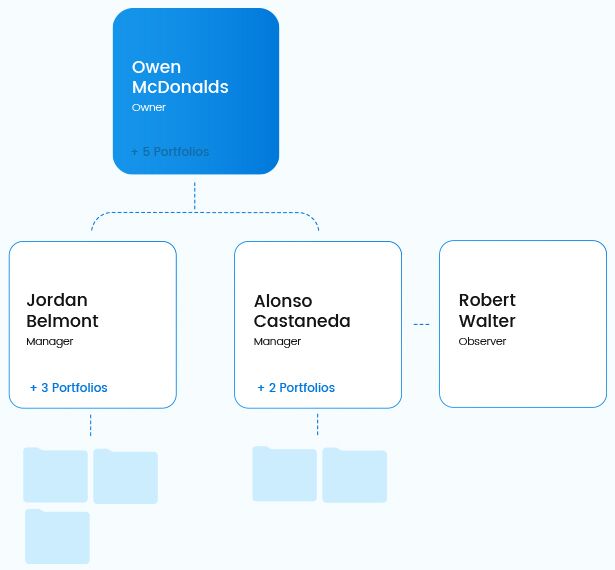 Enabling Teams & Organizations
We are the only tracker that will allow you to create fully collaborative portfolios. Whether investing with friends, a pool of investors, as a company or fund or simply wish to share your portfolio with advisors or friends, you can use our system to collaboratively track your investments
Multiple users, custom permissions: Give collaborators on your portfolios different permissions, whether it is simply to view transactions and data – useful for accountants and advisors – or to manage and edit your portfolio's data.
User-level metrics: When investing with other people, understand specifically how much each person invested, their transactions and how many coins & assets they have on their portfolios.
Address lists: Easily access the blockchain addresses of your collaborators, without needing to manage it manually!
Complete audit trail: Our advanced audit trail system allows you to keep track of who performed which action on your portfolios at a glance.
Adapted to Your Workflow
As an investor, you have your own methods & ways of working.
We aims to adapt to any workflow by giving you multiple ways of interacting with our platform:

Smart Forms
Input your transactions manually with our smart forms, which assist you along the way.

Bulk Imports
Import your transactions in bulk, with our easy and custom upload template.

API Connections
Securely connect your exchanges and wallets by API, for hands-off experience (while being able to route each and every transaction to different portfolios if you wish).

Wisly API
Integrate our API in your automated process to have your bots input transactions for you when they execute trades.
Start for Free, Upgrade As You Need!
Our mission is to empower all investors to have a better and more accurate view of their crypto assets.
So get started now and you will be able to maximize your crypto portfolio insights
_Basic

Free

Free

_Hobbyist

$4.99/mo

$49.99/yr

_Pro

$9.99/mo

$99.99/yr

_Enterprise

$19.99/mo

$199.99/yr

Number of Portfolios
2
5
10
20
Asset Under Management
$50k
$200k
$500k
Unlimited
Number Transactions
200
2,000
5,000
100,000
Users per Portfolio
1
1
10
20
Reports
2 Period Reviews Per Year + 2 Analytics Per Year
5 Period Reviews per year + 5 Analytics Per Year
10 Period Reviews per year + 10 Analytics Per Year
Unlimited Period Reviews + 20 Analytics Per Year
Exports
Full Transaction Export
Full Transaction Export + Current Balance Export
Full Transaction Export + Current Balance Export + Historical Balance Export
Full Transaction Export + Current Balance Export + Historical Balance Export
Support
Standard Support
Standard Support
Standard Support
Priority Support + Set-Up Support
Community
–
–
Join Our Pro Trader Channels
Join Our Pro Trader Channels
Wisly Singals
–
–
–
Access To Trade Signals For Top 20 Crypto
_Basic

Free

Free

_Hobbyist

$4.99/mo

$49.99/yr

_Pro

$9.99/mo

$99.99/yr

_Enterprise

$19.99/mo

$199.99/yr

Number of Portfolios
2
5
10
20
Asset Under Management
$50k
$200k
$500k
Unlimited
Number Transactions
200
2,000
5,000
100,000
Users per Portfolio
1
1
10
20
Reports
2 Period Reviews Per Year
+ 2 Analytics Per Year
5 Period Reviews per year
+ 5 Analytics Per Year
10 Period Reviews per year
+ 10 Analytics Per Year
Unlimited Period Reviews
+ 20 Analytics Per Year
Exports
Full Transaction Export
Full Transaction Export
+ Current Balance Export
Full Transaction Export
+ Current Balance Export
+ Historical Balance Export
Full Transaction Export
+ Current Balance Export
+ Historical Balance Export
Support
Standard Support
Standard Support
Standard Support
Priority Support
+ Set-Up Support
Community
–
–
Join Our Pro Trader Channels
Join Our Pro Trader Channels
Wisly Singals
–
–
–
Access To Trade Signals For
Top 20 Crypto
Blockchain ETFs are thematic exchange-traded funds (ETFs) – consisting of cryptocurrencies – [...]
The world's number one cryptocurrency – Bitcoin – has plunged to its [...]
May is rolling along quite nicely, and with all the Mother's Day [...]
With May already upon us, there have been some incredible developments in [...]