Get The Most Insight Out Of Your Crypto Data
Wisly offers the most precise tracking and analytics on the market. We sort through all the noise to distill intelligence that investors really need, since wisly was created by investors, for investors.
Advanced Cryptocurrency Analytics
At no cost, you can get access to detailed and actionable insight on your investments and portfolios.
Detailed profit breakdowns: We provide data on your in-market cost-basis, per asset investment levels and overall lifetime returns (including reinvested profit from other coins) in multiple accounting methods (FIFO, Average Cost…)
Fx-impact analysis: We let you see your performance and profits in any fiat currency – as well as Bitcoin – whether you initially invested with one or multiple currencies; all our profit calculations include precise FX-impact as required.
Risk metrics: Understand your portfolio's composition, in terms of asset proportion, market-cap exposure, storage/exchange,user risk (when applicable), volatility of assets, etc.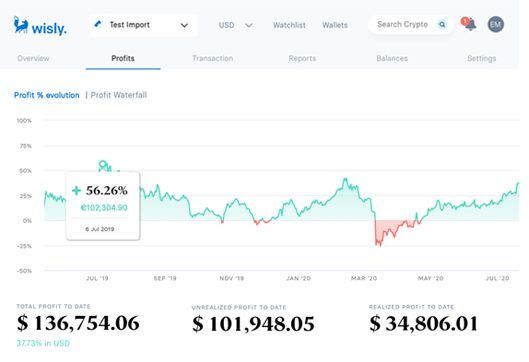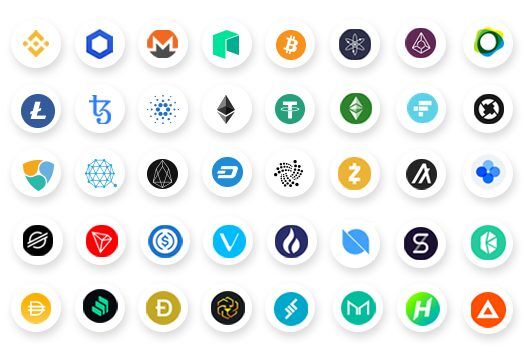 All-Around Crypto Market Coverage
With over 11,000 cryptocurrencies and 3,300+ derivative contracts, updated daily, you can track both your spot and future investments from a single dashboard.
Our automated coin-tracking system updates assets multiple times a day to make sure our database is completely up to date with the latest cryptocurrency news.
We continue supporting delisted coins, including their historical prices, so that you can have a complete view of your holdings.
Our AI powered platform finds and normalizes crypto assets from multiple sources, making sure we list the correct assets, with the right details.

Flexibility When You're On The Move
Optimize your workflow with a full-fledged desktop application and use our sleek mobile app for quick information when you're on the go.
Desktop: Our desktop web application has been optimized for performance and ease of use. Manage and organize your portfolios, wallets, accounts and settings with a few clicks.
Mobile: Our mobile application was designed from the ground up to maximize your productivity. You can download our app on the iOS App store and Android Store!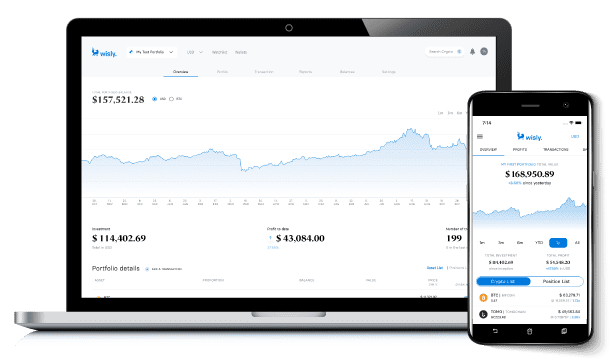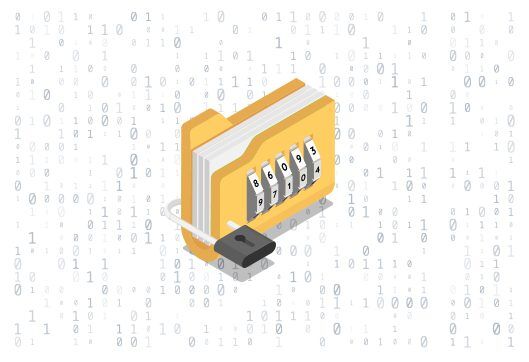 Secure Crypto Portfolio
We know security and privacy are a big concern for investors, especially in the crypto world. Your sensitive information is encrypted and never shared with external parties or users that you do not approve of explicitly.
Adapted to Your Workflow
As an investor, you have your own methods & ways of working.
We aims to adapt to any workflow by giving you multiple ways of interacting with our platform:

Smart Forms
Input your transactions manually with our smart forms, which assist you along the way.

Bulk Imports
Import your transactions in bulk, with our easy and custom upload template.

API Connections
Securely connect your exchanges and wallets by API, for hands-off experience (while being able to route each and every transaction to different portfolios if you wish).

Wisly API
Integrate our API in your automated process to have your bots input transactions for you when they execute trades.
Start for Free, Upgrade As You Need!
Our mission is to empower all investors to have a better and more accurate view of their crypto assets.
So get started now and you will be able to maximize your crypto portfolio insights
_Basic

Free

Free

_Hobbyist

$4.99/mo

$49.99/yr

_Pro

$9.99/mo

$99.99/yr

_Enterprise

$19.99/mo

$199.99/yr

Number of Portfolios
2
5
10
20
Asset Under Management
$50k
$200k
$500k
Unlimited
Number Transactions
200
2,000
5,000
100,000
Users per Portfolio
1
1
10
20
Reports
2 Period Reviews Per Year + 2 Analytics Per Year
5 Period Reviews per year + 5 Analytics Per Year
10 Period Reviews per year + 10 Analytics Per Year
Unlimited Period Reviews + 20 Analytics Per Year
Exports
Full Transaction Export
Full Transaction Export + Current Balance Export
Full Transaction Export + Current Balance Export + Historical Balance Export
Full Transaction Export + Current Balance Export + Historical Balance Export
Support
Standard Support
Standard Support
Standard Support
Priority Support + Set-Up Support
Community
–
–
Join Our Pro Trader Channels
Join Our Pro Trader Channels
Wisly Singals
–
–
–
Access To Trade Signals For Top 20 Crypto
_Basic

Free

Free

_Hobbyist

$4.99/mo

$49.99/yr

_Pro

$9.99/mo

$99.99/yr

_Enterprise

$19.99/mo

$199.99/yr

Number of Portfolios
2
5
10
20
Asset Under Management
$50k
$200k
$500k
Unlimited
Number Transactions
200
2,000
5,000
100,000
Users per Portfolio
1
1
10
20
Reports
2 Period Reviews Per Year
+ 2 Analytics Per Year
5 Period Reviews per year
+ 5 Analytics Per Year
10 Period Reviews per year
+ 10 Analytics Per Year
Unlimited Period Reviews
+ 20 Analytics Per Year
Exports
Full Transaction Export
Full Transaction Export
+ Current Balance Export
Full Transaction Export
+ Current Balance Export
+ Historical Balance Export
Full Transaction Export
+ Current Balance Export
+ Historical Balance Export
Support
Standard Support
Standard Support
Standard Support
Priority Support
+ Set-Up Support
Community
–
–
Join Our Pro Trader Channels
Join Our Pro Trader Channels
Wisly Singals
–
–
–
Access To Trade Signals For
Top 20 Crypto
Blockchain ETFs are thematic exchange-traded funds (ETFs) – consisting of cryptocurrencies – [...]
The world's number one cryptocurrency – Bitcoin – has plunged to its [...]
May is rolling along quite nicely, and with all the Mother's Day [...]
With May already upon us, there have been some incredible developments in [...]